This week we were shocked at what we found.
A customer booked in a Range Rover Sport wanting us to remove his old tow bar and replace it with a new detachable one with vehicle-specific dedicated wiring. We knew he had universal by-pass electrics fitted and knew he was worried they were not safe, as he could see the wiring in the boot. We were 'shocked' at what we found…
Firstly, although the tow bar appeared to be fitted correctly, the bolts holding it in place were only hand tight. Normally with an old tow bar, you expect to have issues getting the bolts off, not in this case. We literally could undo the bolts with our hands. There was no way the tow bar bolts had been torqued to the legal requirements. It was to our advantage as we had the tow bar off the car within minutes, but the customer was very lucky that the bolts hadn't worked loose.
Once the tow bar was off and we had fitted the new towbar, torqued to the legal requirements, we looked at the tow bar wiring.
What we found was a rat's nest of wires that had been fitted incorrectly and a were a dangerous fire hazard. See the images below.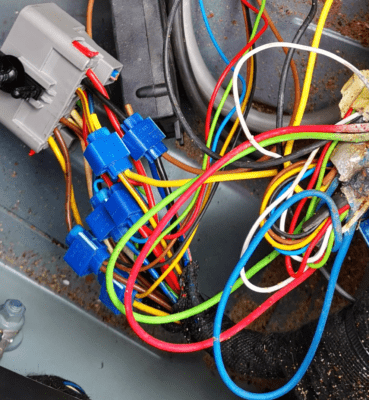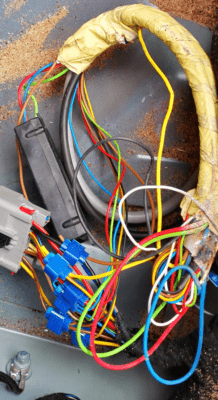 The fitter had just tapped into the vehicle's wiring with Scotch Locks. The wiring wasn't fused correctly and showed signs of smoldering (burning) on the wires. This wiring wasn't just very badly fitted, it was dangerous.
After carefully removing the universal wiring we fitted the new dedicated wiring loom and tested everything worked as it should. We found there was no permanent power, used for the trailer stability, when we traced this back it was caused by a burnt-out fuse in the vehicle's fuse box caused by shorting of the universal wiring that was previously fitted. How the wiring had not caught fire amazed us, it was really a matter of when and not if.
The fitter hadn't provided the customer with any written guarantee or fitting certificate. Which didn't supprise us.
Once we finished the customer had a safe and legal vehicle that was ready to tow his twin-wheel caravan. The customer was very happy that he now had a safe vehicle and we were happy that another dangerous tow bar system had been removed, enabling the customer and his family to tow their caravan legally and safely.
We say it time and time again… If you're looking for the cheapest tow bar fitting then think about what you are paying for, in many cases, in the long term you will end up paying an awful lot more than you are saving in the short term.
Keep safe and tow legally
Team Ultimate Towbars.