We've just completed another Audi A8 tow bar fitting.
Here's a quick overview of the fitting and a few tips if you want to fit your own.
The tow bar we used is the Aragon A8 vertical detachable tow bar, available to buy through the Aragon UK supplier ( That's us.) For the tow bar electrics, we used an Audi A8 dedicated wiring kit available from Audi. The vehicle required a recode we used the SP Diagnostics.
Before starting to remove any fixings, remove both rear light clusters and the two side panels on each side of the boot.
Removing the rear bumper on the Audi A8 wasn't too bad, a few T20s in the wheel arch, a couple under the side edges, and some along the rear, where the bumper connects to the underskirt.
There are also two tricky T20s hidden around four inches inside the arches, behind the arch lining.
Once these are off there are four 10mm nuts to remove, two on each side of the interior boot and two in the middle section, access is gained by removing the keyless entry module.
The bumper can then be removed, not forgetting to unplug the rear parking sensor connector and the radio module.
Remove the impact beam
You can now fit the tow bar. It simply replaces the impact beam with four fixings on each side. Torque to the required pressure and then fit the neck and electrical socket plate.
One thing we did realise is that the electrical socket needs to be fitted with a side entrance for the wiring. There is not enough room to fit a rear entry socket.
Before replacing the bumper the wiring kit needs to be fitted. Once fitted, we suggest coding and testing the electrics. All of the electrical connections are in the boot, so no need to run wiring inside of the car.
The bumper does need a none visible cut for the neck and electrics, this is a pretty straight forwards cut that is highlighted in the fitting instructions. BEFORE cutting make sure you unclip the boot sensor wire, this is connected to the plastic panel on the vehicle when refitting the bumper.
Replace the bumper back on the vehicle, remember to connect up all of the electrical connections, and put all of the bumper fastenings back in place.
Here are a few pics of the fitting.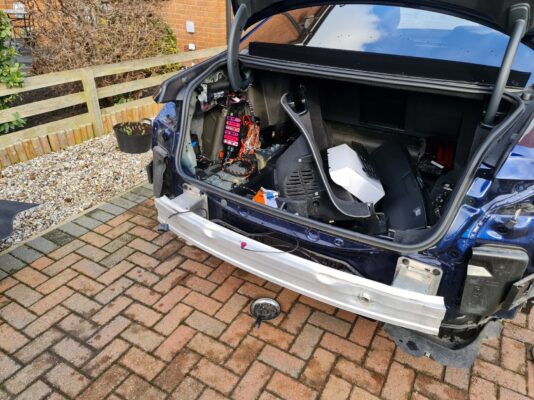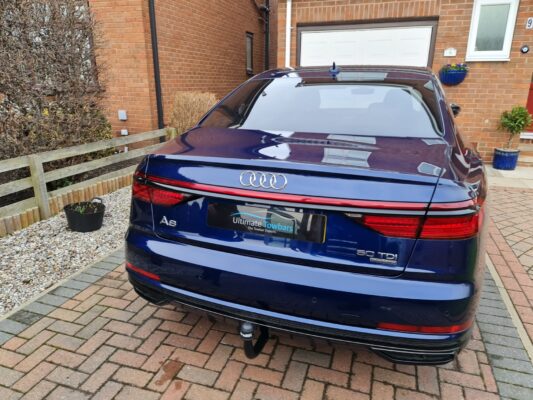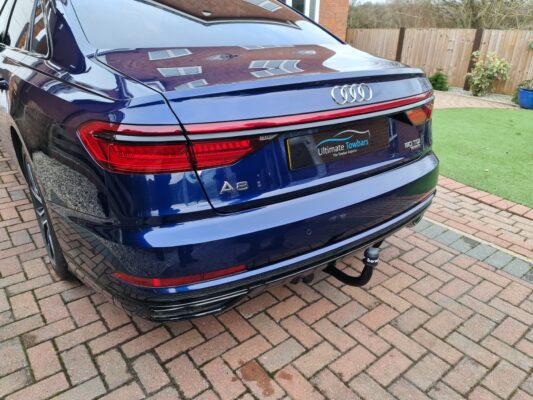 As you can see, the bar looks really good and turns the A8 into a really serious tow car.
If you are interested in buying the bar or would like a price for supply and fitting then get in touch.
Email sales@ultimatetowbars.co.uk or call us on 0114 360 7080
Team Ultimate